Why would you choose a specialist prosthodontist to do your single implant crown 🤔
General dentists who offer single implant crown treatments will usually have undergone less formal training, often having less experience than a specialist prosthodontist. They are usually limited to using more simple techniques, not being aware of advanced procedures used by specialist prosthodontists. They also sometimes are not able to diagnose those patients with more difficult mouths before commencing treatment.
Owing to specialist prosthodontists intensive training, they are in the best position to fully diagnose, plan and advise on appropriate treatment and use various single implant crown techniques underpinned by scientific evidence, research and experience. In addition, specialist prosthodontists can therefore also treat both simple and more complex or challenging implant patients. They also work with more experienced dental technicians (who do their laboratory work) and dental surgery assistants (often working on the best cosmetic outcome) which means the "team" treating you is the best than can be provided. This is certainly the case at Northland Prosthodontics !!!
Single-tooth implants (implant crowns) can be used in people who are missing one or more teeth.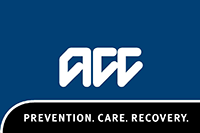 This is the most common type of implant treatment in New Zealand and usually funded by ACC due to trauma. If you have had trauma and lost your front tooth, you could be eligible for ACC support with whom Northland Prosthodontics works closely.
An implant is surgically placed in an opening that your dentist makes in the jawbone. After the implant integrates (attaches) to your bone, it acts as a new "root" for the crown that will replace your missing tooth. A crown (cap), which is made to look like a natural tooth, is attached to the implant and fills the space left in the mouth by the missing tooth.
For this procedure to work, there must be enough bone in the jaw. The bone has to be strong enough to hold and support the implant. If there is not enough bone, it may need to be added with a procedure called bone augmentation or bone grafting. In addition, natural teeth and supporting tissues near where the implant will be placed must be in good health.
How Do They Work?
An implant crown consists of several parts.
The implant, which is made of titanium, is placed in the upper or lower jawbone.
The abutment can be made of titanium, gold or porcelain. It is attached to the implant with a screw. This part connects the implant to the crown. It is shaped like a natural tooth that has been cut down to receive a crown.
The restoration (the part that looks like a tooth) is a crown. It usually is made of porcelain fused to a metal alloy (PFM). It also can be all metal or all porcelain. The crown is screwed or cemented onto the abutment. If the crown is screwed to the abutment, the screw hole will be covered with restorative material such as tooth-coloured filling material (composite).
Screw-Retained Implant (Posterior- Healing Cap)
Screw-Retained Implant (Anterior- Healing Cap)
Missing a Front Tooth – you can choose between titanium or ceramic implants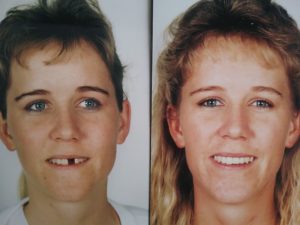 Case 1 – Upper front teeth – single implant crowns on titanium implants.
Case 2 – Single implant crown – lower back missing tooth
Case 3 – Extraction, immediate placement, temporary and permanent single implant crown on titanium implant.
Case 4 – Ceramic implant with ceramic crown (metal free approach)
Case 5 – Titanium implant with metal-ceramic crown
Case 6 – Titanium implant with ceramic crown
Case 7 – Titanium implant with ceramic crown showing temporary Essix bridge during healing period
Case 8 –  Titanium implant with metal-ceramic crown